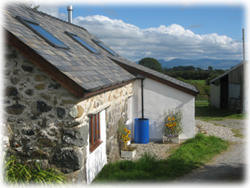 Self catering eco holiday cottage, Snowdonia, North Wales
Welcome to Gwyndy's home page!
Slide shows of Gwyndy cottage
Gwyndy inside

Gwyndy outside and around

Where is Gwyndy, Mur Crusto farm, Llangybi? Click map for location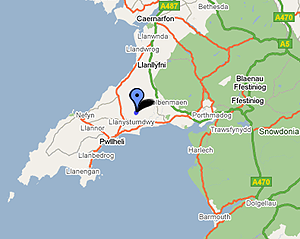 Inside the cottage, Upstairs: The upstairs bedroom has two single beds and a large openable Velux window with a fine view. Above the shower room is the 'minstrel's gallery' which makes a wonderful play area for kids, so they're within sight but not under your feet.
Inside the cottage, Downstairs: Underfloor heating warms the whole building even in the coldest weather. Together with thick insulation everywhere, this makes the cottage very energy-efficient. The living area has two reclining armchairs and a sofa. There's a 32" LCD digital TV which receives all the usual satellite (FreeSat) channels. It has an attached DVD player and there is also a stereo radio/CD player. The centrepiece of the living room is the wood-burning stove which you can use to 'top up' the underfloor heating in the evenings. We suppy wood for the fire; first basket free. There's a small library of books. The kitchen is well equipped with the range of utensils you'd expect. The outside front door admits you into the 'outhouse' - a large room separated from the main building by a glass door. Here you can hang waterproofs, coats and leave assorted belongings and outdoor shoes. Please note that we do not normally supply towels.
The conservatory: Everyone who sees this remarks on two things: what a pleasant place it is to be and what an incredible view it gives you– including the summit of Snowdon. Being fully double-glazed and timber framed, it picks up plenty of warmth on all but the coldest and dullest days. You can sit out here in the evening: there are four spotlights for reading or just enabling you to see clearly when you pour your drinks. The conservatory has its own outside entrance door as well as a glass door connecting to the living area.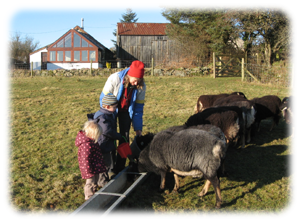 Outside: You have your own private area outside with a patio with table and chairs, a small heather rock garden and a view of all the western Snowdonia mountains: Moelwyn, Cnicht, Moel Hebog and Snowdon itself. There's ample parking space.
On the farm: We grow vegetables and fruit organically so, depending on the season, you can be almost sure to be able to buy some of our produce. If you're particularly interested in what we do, ask for a guided tour. The farm has twelve fields of various sizes and there are usually animals to be seen (sheep, cows, ducks). There's also our own nature reserve with a lake and some fine habitat for a variety of birds: warblers, whitethroats, snipe and water birds like moorhens, mallards and geese (a pair of which nest on the island every spring). Swallows always nest in the stone shed by our garden gate. We call it the Swallows' House. Woodpeckers, both green and greater spotted, are common as are nuthatches. Young tawny owls often perch on the patio chairs outside the conservatory at dusk in summer. The owls nest in the trees behind the old barn.
Non-smokers only please. And we are sorry that we cannot accept pets.
About Gwyndy: When we bought Mur Crusto farm and moved here in 2000, Gwyndy (white house) was a semi-ruin. It had been a milking parlour but the roof timbers were decayed and it leaked badly. In 2003, after planning consent, we began what was to turn out to be a huge project: the conversion of this old stone building into a comfortable energy-efficient holiday eco-cottage. Most of this work has been done by ourselves and to a very high standard. The former near-ruin is now an attractive and comfortable cottage with a large conservatory which overlooks Cardigan Bay and a fine panorama of mountains to the east. Gwyndy has its own solar photovoltaic system which can generate up to 3.8 kilowatts. This electric power automatically feeds into the National Grid if it's not being used in the cottage making Gwyndy more than just carbon neutral and a true eco-cottage.
Things to do without a car: If you bring bikes, a cycle route passes the end of our drive and there are plenty of quiet country lanes nearby. For walkers, there are several public footpaths, the best of these being from Gwyndy via St Cybi's Well to Garn Bentyrch, a hilltop Iron age fortress. Whilst not quite the 'Lourdes' of Llyn, St Cybi's Well ('Cybi' is pronounced 'Cubby') is an evocative place to which people would come for the healing properties of the powerful underground springwaters. [more on this]. It's only 15 minutes easy walk from Gywndy. Add another 20-30 minutes climbing up through a beech and oak wood and two fields and you reach the rocky summit of Garn Bentyrch. Although only just over 220 metres high, the views in all directions are the best in the area. Whilst there, rest on the ramparts of the fort and mull over the story of Guto Bach and the Fairies which took place here. The combination of cycling and walking means you could cycle to and climb the nearby mountains of Gyrn Goch, Bwlch Mawr, Yr Eifl (The Rivals; the highest in Llyn) and the Tre'r Ceiri hillfort and settlement. You can easily cycle to the nearest beach–we've done it many times –and the route is all on quiet raods with little or no traffic and passes a Medieval House which you can visit.
Things to do with a car: Gwyndy is well placed for most things people come here to do or see. The north and south coasts of the Llyn peninsula are almost equidistant and each offer fine walks and beaches. The mountains of western Snowdonia are ever-visible to the east and the less-well-known mountains like Moel Hebog, Moel yr Ogof and the Nantlle ridge. We can offer you advice about which mountains to climb and the best routes to climb them based on detailed first-hand knowledge of the mountains themselves, their geology and natural history. If castles are your thing, Harlech, Caernarfon and Criccieth are all fine ones within easy reach. And as for the beaches, you're spoilt for choice: there are many fine sandy beaches within half an hour of Gwyndy cottage.